Oct 09 '2014
Foreword to the reader:
This upgrade is very similar to the one described in Example I with some minor changes. Therefore I'll depict only major differences.
——————————————————————————————————————————–
In August 2014 I had an opportunity to perform similar upgrade of a '2012 Leaf owner located in BC Canada. This time the main objective of the upgrade was a bit different – not as much charging anywhere without EVSEs, as to take advantage of dual L2 (32A) public charging stations in the city where he can plug both handles of such station into his Leaf and charge twice as fast as a single EVSE with one plug would allow. Both channels (EVSEs) combined would supply 64A total – exactly the current he can take full advantage of if he installs three BRUSA NLG513 booster chargers. On top of that, he wanted the ability to use twist lock to charge in garages, RV parks or any place where a 240VAC outlet (but no EVSE) is available. Of course, the Leaf should also work as stock with just one EVSE as well as with small 120 VAC brick EVSE that comes with every leaf. So the electrical schematic had to be revised on the spot. We came up with the solution and accomplished the task successfully. This customer's Leaf is now even more sophisticated then mine as I cannot take advantage of dual charging stations – I only have one stock J1772 inlet.
Below are few photos of this upgrade. as I mentioned, mostly it is no different than the work described in Example I, so majority of photos are only depicting specifics of this particular upgrade.

The current sensor PCB was revised – for easy DIY assembly it still has through hole components, but it can be attached to existing AC harness easier.

The sensor PCB is attached – shaped to accommodate wire tie's it is much more neat looking now.


Cutouts in the front cover for the display, LEDs and power adjustment pot.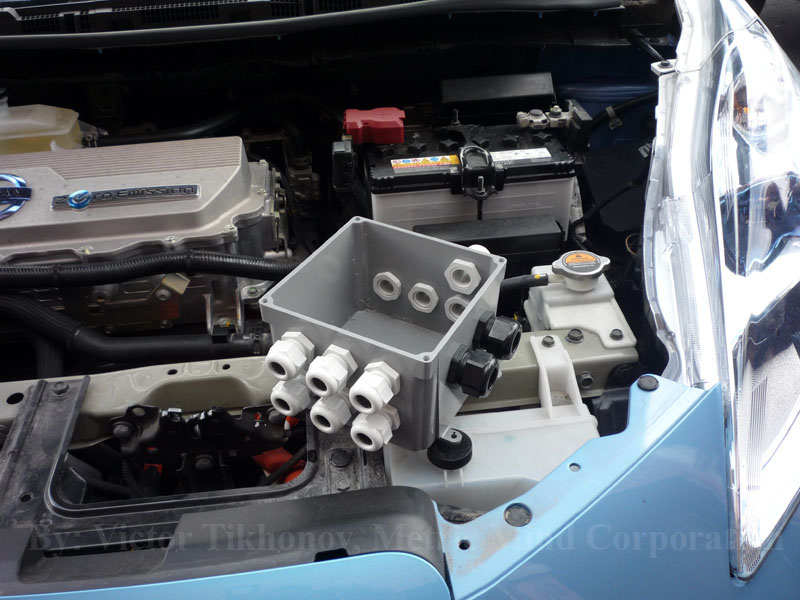 We end up using a bit different junction box (attachment feet). Here is the photo.

New improvement – isolated stand-offs for the AC input and battery output lugs. Having common standoffs for 3-4 lugs reduce resistance between them and physical clutter.


This front plastic guard is only present in '2012 model – we had to wrestle quite a bit with it while removing it to gain access to the DC harness' signal connector.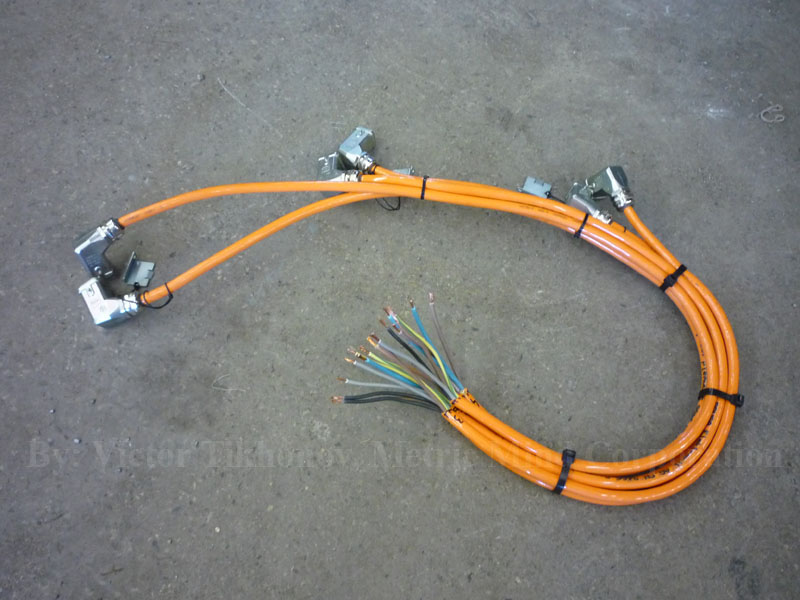 This time entire power harness was pre-made ahead of time for easy assembly.


Insulation of these BRUSA cables is incredibly tough and flexible. Far better quality than generic welding cable, it will not dry and crack over time.


Assembly and installing power harness. At this time customer wanted to install two boosters only, but we made provision and harnesses to accommodate all three, so later on it will be plug-and-play addition.

Panel meter installed – its CT is fed through the cutout in the front panel.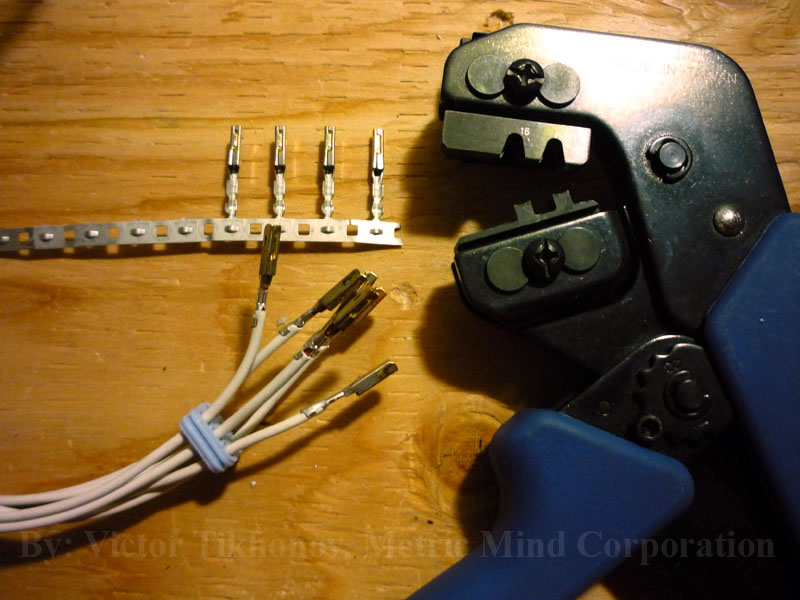 We replaced hard wired harness with one that can be removed and inspected or upgraded, so we used sealed automotive connectors on both ends. Here is wiring with crimped terminals and special crimping tool with dies calibrated for specific terminal type and size is shown. Don't try to crimp such terminals with pliers or generic crimpers – they will likely fail over time.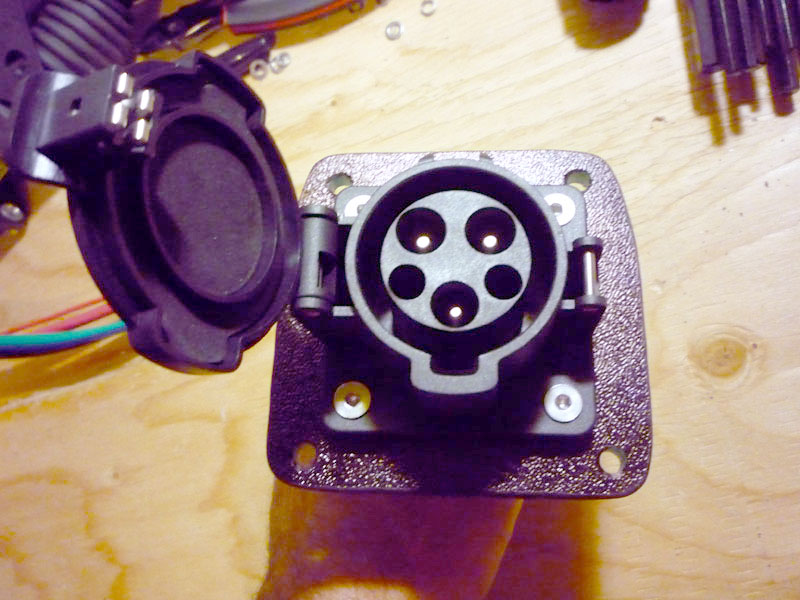 A second J1772 connector to be installed in the place of DC inlet (which in turn is relocated under hood see below).

Stock inlets removed, and extra J1772 one on the patch panel will be installed first.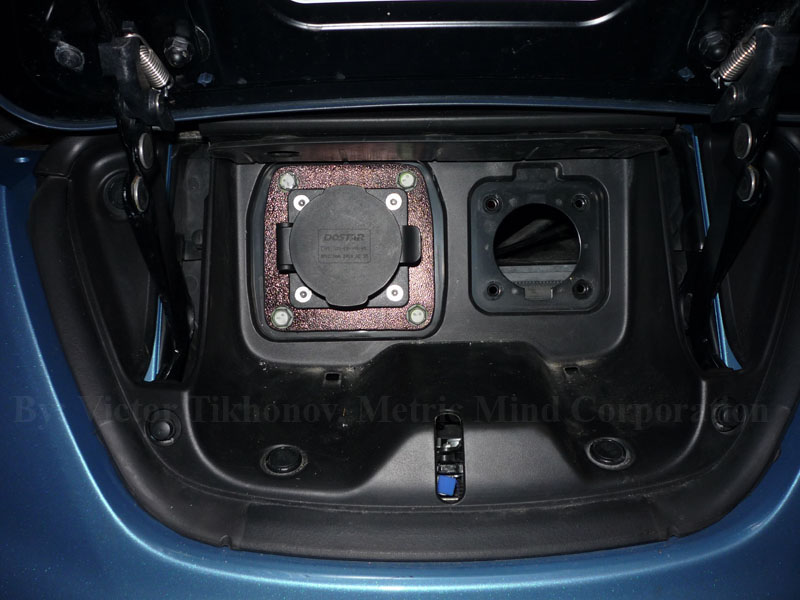 Here it is. The stock inlet on the right side is returned to its position later (not shown).

Back side of the new panel meter PCB.

This PCB will be covered by the newly designed 3D-printer cover, very OEM-looking one.


Another photo of the meter PCB fit. A CT (current transformer) is visible through the cutout.

An AC power wire fed though the CT. There are three of them in this design.

This is what the completed assembly look like.


The DC inlet bracket is totally redesigned – not it also accommodates 50A twist lock connector next to it making this Leaf's recharging connectivity universal.

Here the DC inlet is installed and the twist lock one is being installed.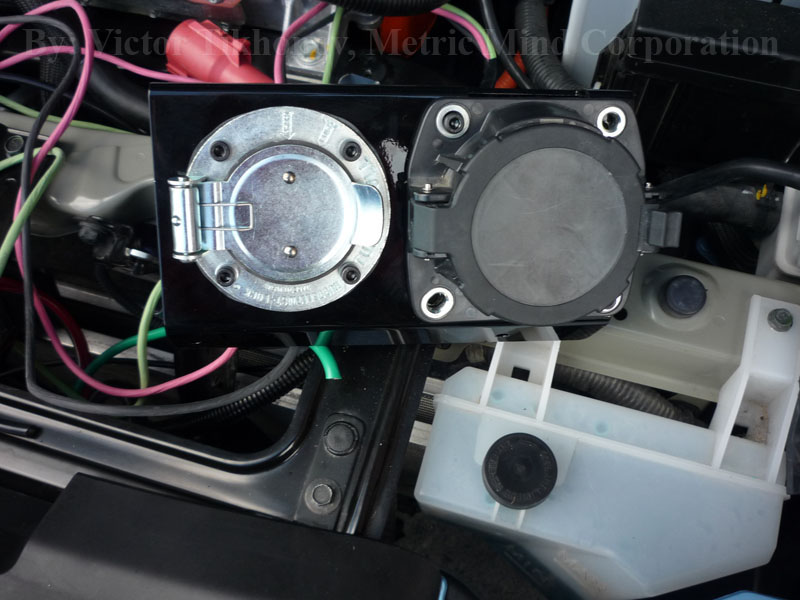 This is what the inlets assembly looks like.

Power connections inside junction box are more transparent now – much less clutter than with terminal strip blocks. (Low voltage signal wiring is not shown).

Here it is – finished work, what all 4 inlets look like.

Close up photo of twist lock and DC quick charge inlets.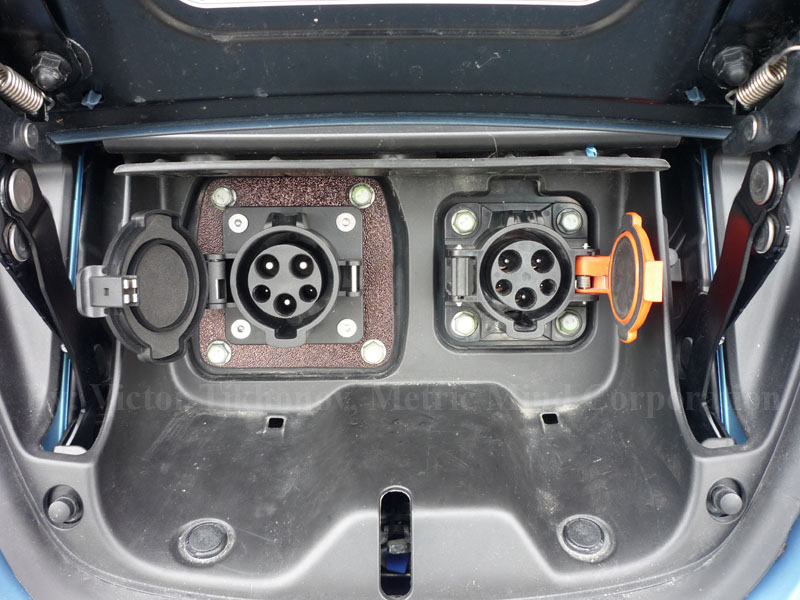 Close up photo of both J1772 inlets.

Under hood bracket view from the driver side.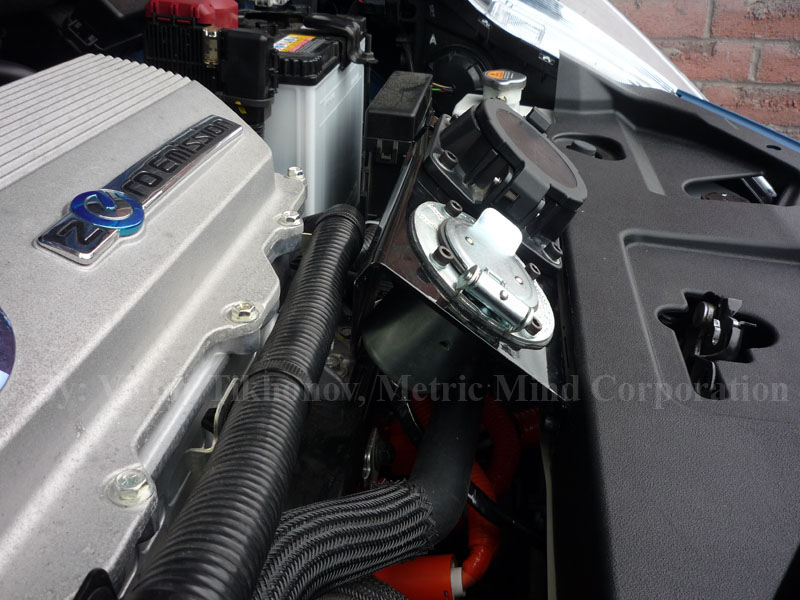 Under hood bracket view from the passenger side.

Low voltage signal harnesses for all three chargers pre-made.

We fed serial connections to all three chargers through the trunk floor and left it under the floor cover. These will practically never be used unless user would want to change charging profile or diagnose any problems with chargers.

Ultimate test – charging from both channels of public dual charging station.

Same as above – overview. You should do this as long as there is no other EV owner on the next EV parking spot…
This photo was taken near shopping district of Niagara Falls in Ontario Canada. I believe, as of summer 2014, this Leaf is the only one in Canada equipped to be charged like this, and its owner is quite proud and happy about the outcome of the project!

More – to follow. Welcome to email me if you have any questions regarding this project.